ORDER HOTLINE: 01386 421777
Your one stop solution for Vehicle Conspicuity and Chevrons.

Specialising in Chapter 8 Legislation.
Chapter 8

Welcome to Chapter8highways.
Welcome to your one stop website for all of your Chapter 8 and Vehicle Conspicuity requirements. We supply Chevron backs for any type of Vehicle. The majority of our backs come in kit form that can easily be applied to your vehicles. For more complicated Chapter 8 kits, we offer a competitve Nationwide 3M approved fitting service.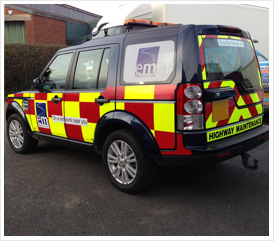 Many of our Chevron kits are also available in Magnetic form. These provide the maximum in flexibility as they can easily be attached and removed.
The Chapter 8 legislation is now a contractual condition applying to all Vehicles being used for Motorway/Highways maintenance work.
We are specialists in vehicle Conspicuity. Already supplying major Blue Chip Companies with their needs.
We can provide you with all of the information needed to ensure that you have the right amount of Conspicuity on your vehicles to comply with, what can seem to be, a very complex set of Regulations. For a breif description of these regulations, you can visit our dedicated page HERE.
ECE104 Regulations

New Law from July 2011...
The ECE104 set of regulations became Law in July 2011. ECE104 is a regulation that establishes guidelines for the use of retroreflective safety markings on heavy goods vehicles operating on our roads. The reflective markings clearly outline the rear and sides of the vehicle, making the vehicle highly visible at up to 1000 metres at in low light
conditions.
SPECIAL OFFER for a limited time only ! Rolls of Approved Tape 50mm x 50mm (Red/White or Yellow) @ £110 a roll.
For further details on the ECE104 regulations, visit our dedicated page HERE.
To get started, simply navigate through the vehicle category menus below to begin the process of selecting the chevron kit you require first by choosing your vehicle type. If your vehicle isn't listed, it doesn't mean that we don't supply Chapter 8 kits for it.
Please contact us for a quote for any Vehicles not listed on the website. We are updating our database of vehicles on a daily basis.
Cars.

Saloons - Estates - 4x4s.

Easy to apply kits, most are also available as Magnetics. Contact Us for details.
Light Commercials.

Vans - Pick Ups - Tippers.

Many of these are also available in a Magnetic form. Contact Us for details.
Trucks & Miscellaneous.

Gritters, Crash Cushions & all HGVs.

Most of the HGVs are specialised kits and aren't uniform like the Car and Van backs.